Reliable sawmillers, fence, gates and joinery manufacturers in Verwood and Dorset
H.G Froud & Son is your local sawmill that is well-equipped to cut and shape timber to a variety of sizes and shapes.
Quality work at competitive prices
We are a family run business and we are committed to providing quality timber products at competitive prices. Our team are highly skilled and experienced to provide you with bespoke traditional and contemporary items that will suit your requirements and your budget – trade and retail are both welcome. Contact us today to find out how we can help.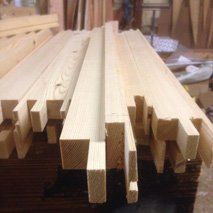 Long established sawmill
H.G Froud & Son were established in 1947 by Herbert Froud, specialising in hurdle making. His son joined the business and introduced fence panels, followed by Steve Froud in 1986 and his son later in 2014. Their expertise is in sawmilling using locally sourced English Larch and Douglas Fir timber to manufacture high quality fencing panels, gates and posts to residential and commercial customers across Dorset.
Wide variety of wood
Specialists in hand crafted bespoke joinery, H.G Froud & Son provide a high quality woodworking service manufacturing staircases, doors, windows, etc. to residential and commercial customers across Dorset.
Rely on us for:
Our saw mill at H.G Froud & Son enables us to provide customers with timber that is cut to specification, including sawn feather edge, waney edge boards and other sized timbers as required. We also have planing services available.