Manufacturers of High-quality wooden gates in Verwood and across Dorset
Our skilled team can make timber wooden gates to order that can not only increase the aesthetic appeal of your outdoor space,
but also add security to your property. Call us today for a free quote.
Quality timber gates
Our wooden gates are customised to complement your property, our gates are made to order out of larch and douglas fir timber, or hardwood timber such as oak. All of our gates we design are easy to maintain and are of high quality.
We can accommodate any size wooden gate, special sizes for awkward and unusual entrances.
Contact us to find out how we can help.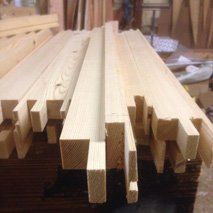 Contact our team
Feel free to discuss your requirements with us and we will customise our gates according to your individual requirements. We will work closely with you to ensure that all your expectations are met. Contact us today for a consultation or to request a free quote.
We can manufacture
Timber gates
5 Bar gates
Entrance gates
Side gates
Estate gates
Standard gates
You can also contact our team for gate and fence restoration and bespoke joinery work.